Buang Wun Wan Epi. 10 Caps COMPLETED!


From youtube
Oh hell no.. Pit is back !! Goodness gracious this is getting intense ! Though still conniving and selfish, Pim somewhat had a conscience and had potential to be good. But now that she has evoked the evil demon, Pitt.. all hell is about to break loose! I'm just happy that Poom and Boot have at leat some, if not all ideas of their past lives. anyway… Pian's Mom was a good lady in the past… why in this life, she's doing something kinda bad by breaking the rules of karma ??? *scratches my head.. *
Tawan informs Boot of what happened at the old lady's house. Boot is curious and really wants to talk to the old lady herself. so she and Poom takes a road trip to that old lady's house. Just as they got to the house, the tires blow out.
Boot goes in first as Poom stays behind to change the tires.
Boot enters the lady's house. she feels eerie as she walks in.. something in this lady's house is about to reveal a little hint of what happened in the past life. Boot then meets with the old lady.
She asked her about the gold chains and begs to hear that story again about Chat ans his lover. at first, the old lady tells Boot that there is no way she can relate to chat or the chain because she isn't related to her family line.. but then Boot tells the old lady that her boyfriend and her both hurt their wrist when touching the chain.
Boot then goes to the skeletal remains and has a connection with it. Old lady sees it and asked Boot if she feels that perhaps those bones were hers and her boyfriend's  from the past life??
Meanwhile.. Pim thinks about the vision she saw of her life. She looked very scared, but then her old self appear to her and tells her that from now on she will be the strong and determined Pitt like before!
after seeing the connection that boot has with the remains.. Souy, the old lady believes Boot. So two of them start going through Souy's old stuff to find some old pictures of Chat. Boot goes through a box and came upon a picture of Chat…. "Poom.." she utters. Then she gives it to souy… "grandfather chat??!" souy utters.. and that's when Poom walks in the house.
Their suspicious are then confirmed that Boot and Poom are the reborn Chat and his lover, Bua.
boot tells Souy that not only do theit wrist both hurts, she has a recurring dream of chat in a soldier uniform… he always call out the name bua. and on top of that, they are both drawn to a music box. she shows souy tge music box and souy tells them that it could be possible that the music box both belong to them.
After their visit with Souy, Boot express to Poom that she wants to know who killed them in the past life.
"let's not know… it's the past, what's important is that I found you this lifetime now… and I will love you forever.. I love you.." Poom tells her.
the two give each other loving gazes and saus their goodbyes. a few minutes later, Boot hears a car engine. She thought it was Poom again, but it was Pim. She looked evil and creepy.
"I've got something to talk toy ou about.. " Pim tells Boot.
Boot welcomes Pim and gives her water. '
"what did you want to talk to me about?"
"I'm here to talk to you about Poom.. I want you to stop seeing him.."
"but… Poom says you are friends.."
Pim stands up… circle around Boot .."you are pretty and rich.. you can find other guys.. so stop seeing Poom.."
"I understand and I am sorry, but … I didn't think things are going to happen this way, but me and Poom love each other for a very long time.."
"Long time????? what are you talking about??" Pim starts to freak out.
"do you believe in past lives??? it's like… me and Poom used to love each each other , but we were separated.. but now we found eaxh other.. it's unbelievable, but please pity us. don't separate us.. "
"you're speaking nonsense!!!!!!!!!!!!!!!" Pim freaks out.
"we didn't mean to hurt you … but… it's fate, please understand.." Boot begs Pim.
It looks like Pim was about to back off, but then she sees an image of evil Pitt in a painting telling her not to back off. What hers is hers!!
Meanwhile at the temple, the monk warns the fortune lady to stop revealing the past and present to people because she is going against the rules of Karma and something bad can happen to her.
Pim was on a rampage as Pitt was her evil conscience. That night, she drives to fortune teller's house. Trying to heed the warnings of the monk, the fortune teller turned off the lights and pretended not to be home. Once she thought Pim was gone, she turn her lights back on, but when she turned around, Pitt was standing right in the back of her.
Pim wants the fortune teller to show her the future of Boot, Poom and her. Fortune teller refuses to help and refuses Pim'ds money and tells Pim that either she or her will die if they look into the future, so that's when Pim points a gun at her.
"do you want to die now? or risk dying from looking at my future???" Pim threatens.
So fortune teller gives in and starts the process. Pim is given a candle.. she is to look at the candle and walk to the fortune telling area. the fortune lady joins Pim and takes her hands. As the ritual starts, Pim can see images of her putting chains on Boot again.. but it is unclear and then it looks like they both fall in the water together.. but what's happening?? it's unclear as to who is drowning.. but so far, looks like Pim is losing the battle.
as she gets closer and closer to seeing who dies and who survives, the fortune teller goes into shock and convulses. Pim shakes her and commands her to continue, but no use.. fortune teller dies.
Pim is shocked to see blood on her hands , so she rushes out of the fortune telling tent.
The entire time, the homeless man was listening on to her. He goes in to check on fortune lady and sees that she's dead, so he was going to go tell the monk, but Pim catches up with him. It seems like Pim is now in full evil mode. She cocks her gun and was going to shoot the homeless, but his dog tackles her down as he runs away.
Pim was about to chase after, but Monk ask her to stop doing bad. She hides her gun in her bag and leaves, and decided not to chase the homeless guy.
the homeless guy is frightened and was running traffic right in front of Noth's car, but luckily he didn't get hit. He just fainted .
Meanwhile, Boot calls up Poom and tells him that Pim came to ask her to stop seeing him and she looked like a freaked out mad woman.
Poom reassures Boot that he will talk to Pim once again, but Boot warns him that she feels like Pim will not let this end nicely.
Noth takes homeless to the hospital. When homeless woke up, he freaks out and begs her not to take him back to to the temple cause he's too scared. So since Nith felt sorry for him, she takes him to stay at tawan gallery for awhile.
back at Pim's house, Pim is acting strange and is very distant. The caretaker couldn't even get through to her. Pim asked to be alone as she stare into the mirror. that's when her evil conscience Pit appears and encouraged Pim to be strong and fearless.
At tawan gallery, Nith gives food to the homeless guy. tawan wasn't too happy to see a homeless guy in his gallery. Nith reassures him that he is just staying for a little while .
So tawan and Nith starts talking about the chains… that's when homeless questions himself if that was the same chains that he heard Pim talk about last night with the fortune teller.
Later that day, Poom, tawan and boot goes to the temple with Souy to do a memorial and merit for chat and bua. After the ceremony. souy shows a pic that she found of chai to tawan.
That's when she tells them that Poom and him were brothers in the past life!
Nith was amazed at how everyone here is reborn together from the past life . Nith expresses to everyone that this is not unusual there is something very strange as to why everyone is reborn all together.
tawan tells her to forget it cause he plans on selling the chains. That's when boot tells Tawan that she and poom would like to buy the chains. tawan tells her that he is selling it for 8 million.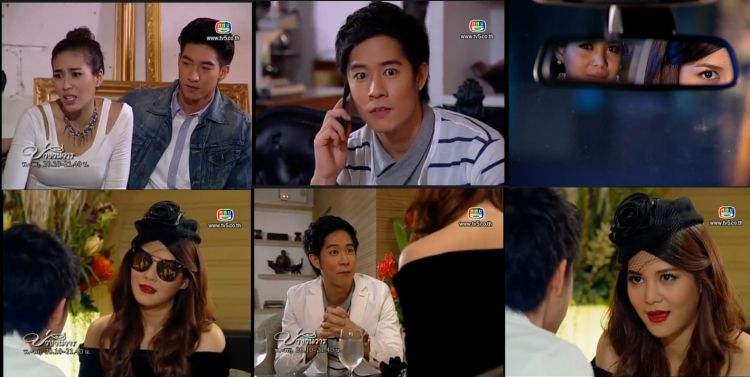 Boot tells him to keep for her and she will find a way to pay him, just then tawan get a phone call from evil Pim.
"I'm calling about the chains…"
tawan sneaks away to talk on the phone. (hmmm.. why did chai reborn into such a money hungry guy???) Pim hags up the phone and looks at her evil conscience that is sitting in the back seat.
The next day, tawan meets with Pim. she offers him 8 mil. tawan tells her that his friend wants to buy it and he should maybe save it for his friend, but when pim up the price to 100 million, tawan says sold! Then she takes off her shades to reveal herself wearing sexy red lipsticks.
"deal…?" Pim utters to tawan.
End Of Episode