A Look Back: Roy Ruk Roy Adeed (Buang Wun wan)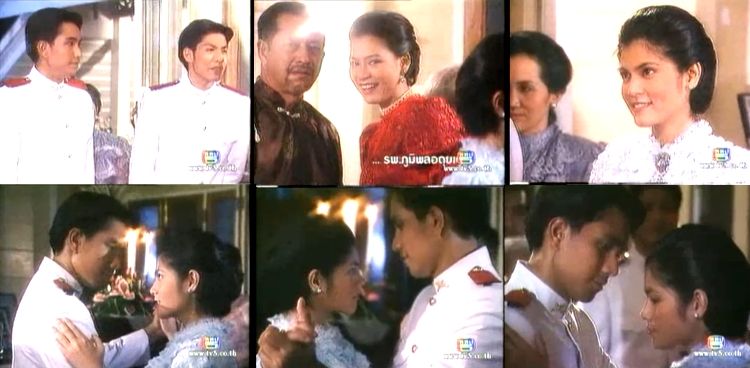 From youtube
The love story between Chat and Bua  is just so sad and tragic. Even though they find each other in the next life, it's so bitter sweet, because in their past lives, they suffered such great pain of  separation and death. The saddest part was right before they were thrown into the water, Chat consoled Bua and promised to find her where ever she is! Even in their darkest hour, they find love and hope. And they died in an embrace under the water…
I found this old version and wanted to share this particular beautiful, but haunting scene. Poom (Chat) asks Duan (Bua) to dance. The song is playing in the background…
The sky may separate us, but there is no way it can separate you from my heart… I'm going to stay to love you… even in my last breath, I will love you forever..
Poom then dedicates this song to Duan.
Every minute and every second, I wait for you… I watch the stars and the moon, I see you watching me…
While the couple dances away to this beautiful song, Pit is watching, lurking… marking her hatred on their love.
It's haunting because they shared such a beautiful moment together, not knowing what sadness they will endure!

During their last moment, every minute counts as the ill fated couple express their deep love for one another.
"Poom.. promise me, that we'll see each other again…"
"I promise.. even though this life, we didn't get to be together. No matter what happens, I promise next life I will find you and I will love you.. "
"I promise you too that I will find you so we can be together…"
And then they're thrown in the water! Poom and Duen holds on to each other as they cease to exist…..