Buang Wun Wan Epi. 12 (End) Caps COMPLETED!!
From youtube
This was an overall very good lakorn. It had no filler scenes and the pace was very good and the casting was exceptional. HOWEVER…. I felt like something was missing about this lakorn. I think it was too short and it lacked more details and interactions. For example, the love between Poom/Chat and Boot/Bua needed more sentiments. I get that they were soul mates, but we never really see any deep moments between them besides the underwater kiss, the death scene, and the garden scene. Their moments were very brief! And what I am a bit disappointed about is that they didn't visually show us exactly what happened after Chat and Bua died. Like, how did people find out that Pitt was responsible? And did Noy and Chai marry???? Anywho… other than that, I liked this lakorn. It has a very valuable lesson. You reap what you sow and Karma is a bitch! So be good for goodness sakes!! On with the caps…
Oh my… Pian is hot in this new life of his. He's a mysterious guru all dressed in black and an expert at ancient arts. So Nith waits for him to emerge from his hotel room. She begs him to help her open something, but he nonchalantly dismisses her… until.. she tells him that there is an old gold chain, (handcuffs to be exact) that he will see.  And so Pitchaya remembers his old key that he wears around his neck. He then decided to go with Nith.
Meanwhile.. Boot pulls up to the gallery. Homeless man hears a car, but can't see who it is . But when the second car pulls in, he knows for a fact that it is PIm, the lady that had to do with the fortune teller's death.
Boot goes inside to find that Xray tool.. and Pim follows her in!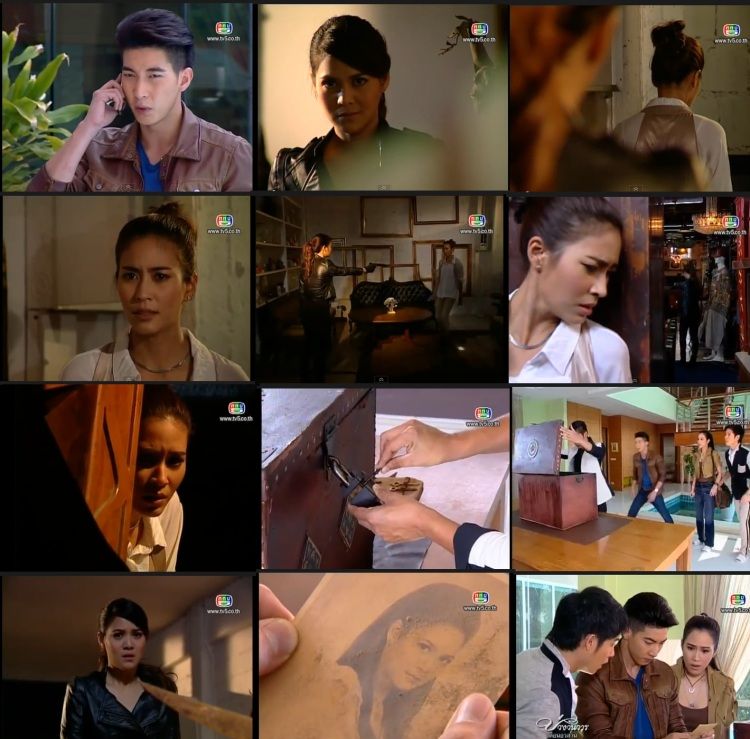 Boot talks to POom on the phone and then suddenly the lights go out! Boot goes wandering in the dark to the fuse box, that's where evil Pim catches up with her and sneak up on her. Boot is aware that someone is behind her. She turns around and sees Pim.. and she's got a gun!
"what do you want??"
"I want to tell you what you want to know!"
"what is it??"
"the gold chain!"
"you already got it.. so what do you want??"
"follow me!"
Pim points the gun at Boot, but Boot manages to get away. A chase ensued! Now, let's see… Pim is a sickly person, so Boot could easily outrun and overpower her right??? Nope… wrong. LOL… well, I'll give Boot more credit being that Pim has a gun, but come on now, Pim is supposed to be this sickly girl that one prick of the skin will send her in shock! So anywho.. Boot runs away and hides .. but the sound of her phone ring gave her away.
Poom thought it was weird that the lights went out and Boot didn't answer her phone, so he decided to go check on her at the gallery, but just then Nith and Pitchaya arrives.
Pitchaya examines the chest and feels its evil energy. He begins unlocking the chest with his keys. Nith, Tawan and Poom waits anxiously.
Then on the second try, Voila! Pitchaya got the chest opens! He was excited to see a gold chain in there but there was none. Poom tells him that they will be able to pinpoint where the chains are if he gets to examine the chest!
And so Pitchaya lets Poom look in the chest. Everyone helps to look through books and old stuff.. and then in a small box is a picture of PItt.
Poom wipes away dust mites and oh shit, to his horror and shock, Pitt looks exactly like PIm! so they put two and two together and realizes that Pim is Pitt! They also realizes that if the chains are gone, then that means PIm is going after Boot right now!
Boot finally got the upper hand when they enter a room filled with swords and knives and sharp objects. Knowing that Pim is afraid of them, Boot pushes down shelves of them and even throws it PIm's way, but was Boot smart enough to take a sword with her or seize PIm??? NOPE! She just runs away. (face palm. lol)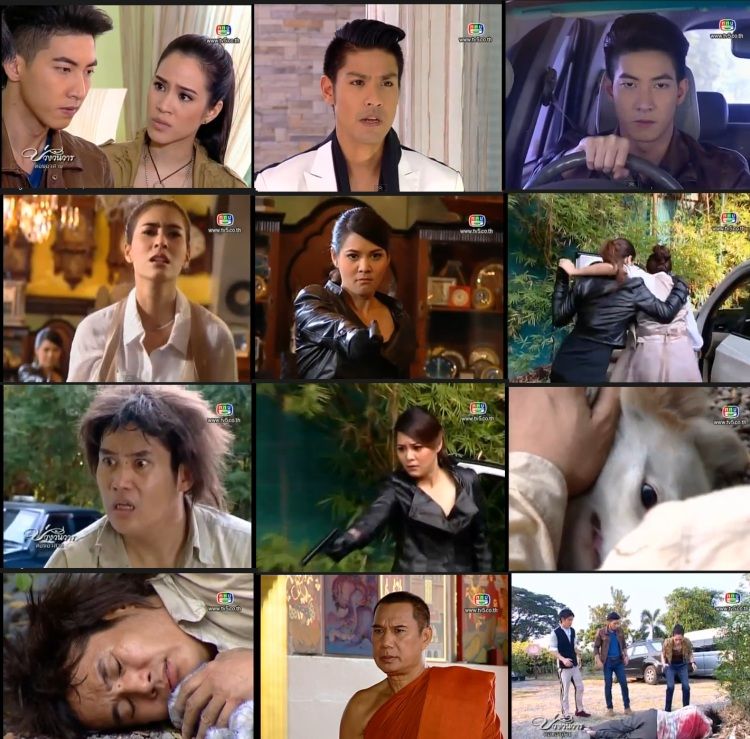 Nith tells Poom that Pitt killed him and Bua in the past life.. and so POom and the gang rushes out to go fin Boot and PIm . Boot keeps running away from Pim, but then PIm shoots Boot! In the leg that is… so Boot is now slowed down since she got shot in the leg.
Pim drags her to the car and ties her up. The blind homeless man can't see but he can hear the scuffle and he hears Boot cries for help. The dog, Duang from past life runs to PIm and attacks her. Pim tries to shoo away the dog cause she's in a rush! But the dog didn't go away so Pin points the gun at the dog to kill it! the homeless man runs in front of the dog and catches the bullet.
It goes through him and into his dog. Wow funny how, his own daughter from past life kills him this life. And funny how her master killed her this life too! Karma is a bitch folks! (I can't help feeling bad for Samon/Homeless man and his dog, but you reap what you sow)
The monk knows what happened…. he utters out. "It's finally the end of your Karma, Paya Samon and Duang… next life, please be more kind…"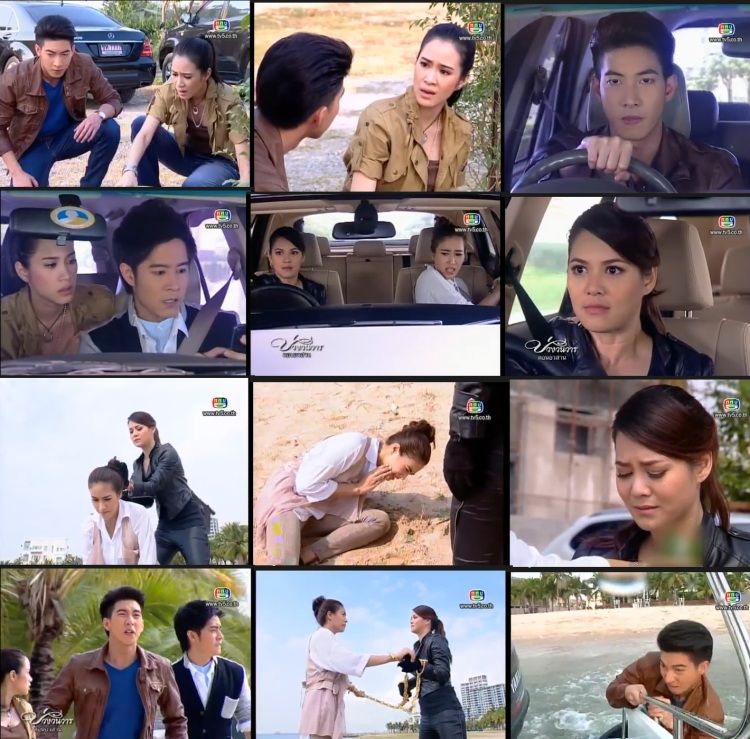 The gang arrives at the gallery and sees homeless laying on the ground. They go check on him.. the homeless spent his last minute of life telling them what he heard… that lady and a lady in distress. He urges them to go save their friend as he took his last breath.
tawan tracks Boot's Gps on her phone.. the gang follows the signal.
Meanwhile, Pim tells Boot that she is going to kill her and that there is no way in hell is she going to let Boot take Poom away from her anymore. Pim tells Boot that she saw the future and that Boot was going to kill her, so she was going to kill Boot first.
Boot tells Pim that she never have any intentions of killing her at all and ever since last life, she never had any ill intentions towards her at all! But Pim doesn't believe her and vows that she will end this and kill Boot!
They arrive at the beach… kinda weird that no one is at the beach today?? Haha… but anywho… Pim drags Boot out to the shore to kill her.
Tawan loses the signal.. so now they just had to drive and hope they find Pim and Boot.
Boot runs away, Pim chases and there is a struggle. The gun is tossed out of Pim's hand once again . Both girls sprint for the gun but they struggle to get to it.
Pim got the gun, but Boot got a broken bear bottle. Gun, beer bottle, gun beer bottle??? which one would win???
Boot got a beer bottle to pim' neck and pim got a gun to boot's torso.
"i thought you weren't going to hurt me??" Pim questions.
Boot starts her pep talk to Pim and urges pin to stop and promises that she and poom will be her friend no matter what. Pim pretends to back down.. so boot let go of the beer bottle!
surprise surprise it was just an act. Pim now has the upper hand. she holds Boot by gunpoint.
"no matter what you do to me.. you will still not get what you want!" boot tells Pim.
And so PIm is about to shoot boot.. she shoots but there's no bullets!!!! It ran out from the chase earlier. So the only thing that's left o do was… Pim puts the gold handcuffs around Boot and herself.
Just then, Poom and the gang were running up the beach! Pim drags Boot and they hop on a motorboat.
poom sees them and runs towards them just enough time to grab hold of the boat as it pulls away! Poom climbs onto the boat.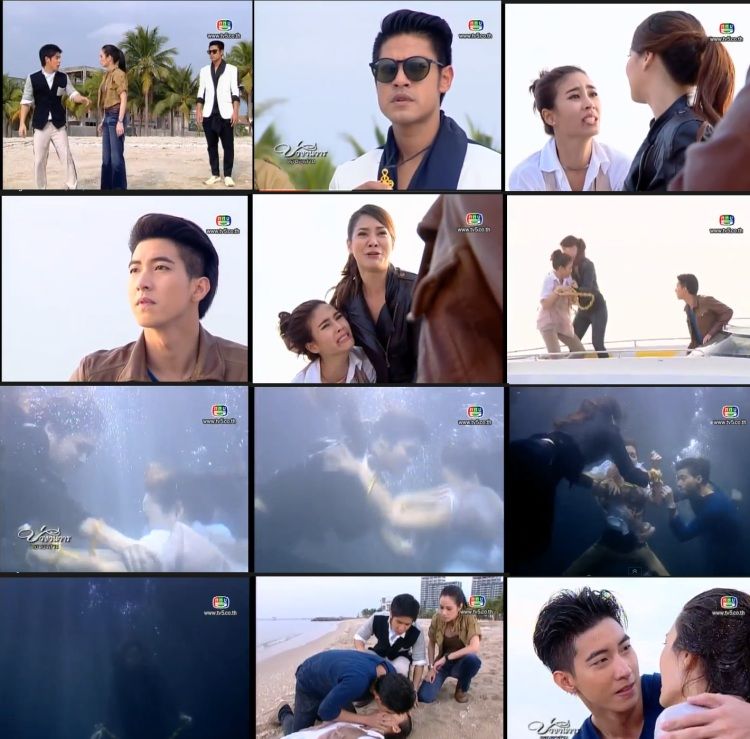 tawan runs to go get help, while nith and pitchaya sands on the beach and watch in horror. Pitchaya kept holding on to his key and tries to figure out what he was suppose to do with it.
"is that the gold handcuffs??" pitchaya asked nith.
"yes, that's what you wanted to see.. "
meanwhile on the boat. Poom tried to seize the boat, but pim threatens that she will kill boot if he tries or come closer.
"you promised you would take care of me! "
"yes I did promised you I would!"
"but do you love me?????" Pim questions.
"I care for you!" Poom tried to persuade her.
"then I've got no choice!!!" Pim tells him.
"if you do this.. we both will die!" Boot tried to persuade crazy Pim who is threatening to jump off the boat along with boot.
"this day finally came when I know for sure you never loved me!!! good.. today I will show you how it feels to lose your love!!" Pim jumps in the water dragging boot down with her.
Poom dives in and swim frantically towards them. Boot struggled to get free from the handcuffs.
Pitchaya and Nith watches in horror!
Boot is about to lose her last breath while she fights underwater to free herself. Poom finally reaches them and tries to free Boot but fight to stop him! Then… Pim runs out of oxygen in her lungs. She blacks out as Poom still struggled with the handcuffs.
Then Pitchaya realizes what the key around his neck is for! He takes it off his neck and tosses it into the water..they key like magic floats to Poom! He grabs the key and frees Boot!!!!
He tried to help Pim too, but it was too late for her cause she has already sink lower and lower along with the gold chain. Pim is already dead!
Poom and Boot emerged to the surface. Boot is unconscious. Poom performs CPR and mouth to mouth…. and Boot finally comes to!!
Poom holds her in his arms…
"I thought I would never see your face again…" Boot tells him.
"I will never allow myself to lose you again… "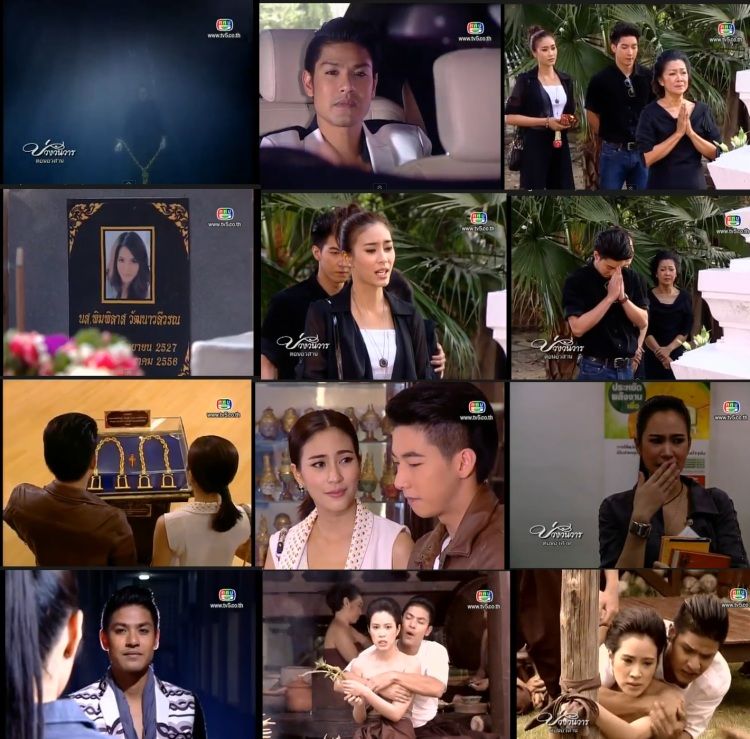 Karma pays Pim back.. the person who gets drowned and dragged under water with the gold chains is PIm! On the car ride home, Pitchaya realizes that he was destined to come to Thailand to help save a life..
Pim is dead… they have a furneral for her. Boot and Poom goes to her grave and gives her flowers. Boot pays her last respect to the dead and tells her that she forgives her and that she hopes their karma will end here.
Poom apologizes to Pim for hurting her in the past for not loving her and begs him to forgive him as he forgives her. After that, he and Boot holds on to each other as they look onto the future.
The gold chains was now in a safe place in the gallery for all to see. Poom declared that the chains will represent goodness and love.
Meanwhile…. Nith is still a researcher.. she goes into a elevator and notices that it is an old elevator and makes a comment that the elevator is too old and wonders if it will break on her. Low and behold, the elevator stops. She calls for help… and in her state of panic.. the elevators opens… light flows into the elevator and from it steps Pitchaya.
"Pitchaya.. what are you doing here?"
"something told me to come… "
"what is this something ?"
"you….. " Pitchaya tells Nith as a montage of Pian and Noy replay for us to see. In the past life, Noy didn't love him… but his goodness carried onto to this life… Noy/Nith finally sees his true love for her. They smile at each other implying that they will spend their lives together. I'm so happy Pian finally gets the girl!!!!!!!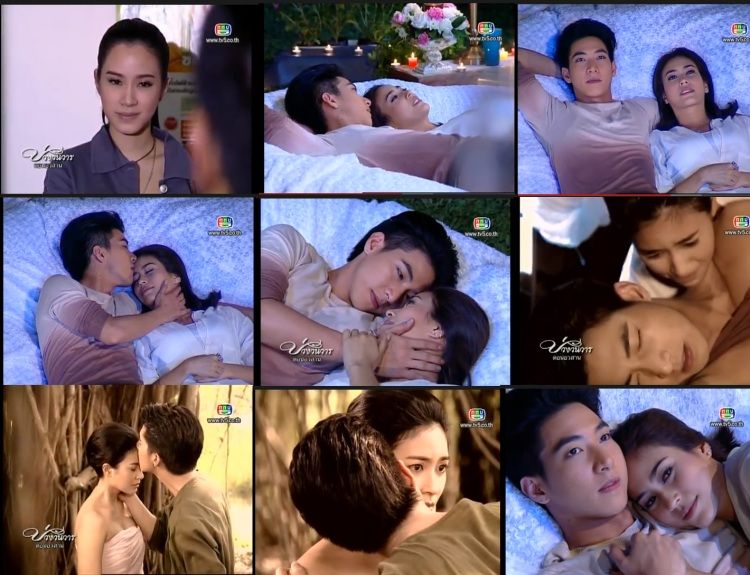 Meanwhile….. Boot and Poom are together laying under the full moon. They have the music box playing… its melodies warm their hearts.
"whenever I listen to this song.. my heart warms and I'm so happy.." Boot expresses to Poom.
"Me too… from now on, only happiness will happen to us.. " he turns to her.. "I promise to love you forever…"
"I promise too…." Boot tells him. Poom touches Boot's face and drew in for a kiss. A montage of Bua and Chat plays for us… they shared such a strong love, a strong bond, a true love that cannot be broken or separated..
Boot lie on Poom's chest as they watch the moonlight… the next chapter of their lives begin.. it is filled with love and happily ever after!
The End!!