Manee Sawud Epi. 3 Quick Review COMPLETED!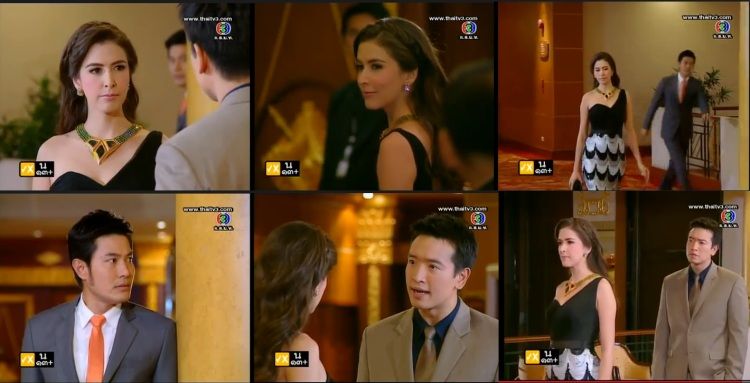 From youtube
Wow, I love Ouraka's beautiful black dress during the jewelry party. If you guys noticed, the wave like stripes on her dress look like snake scales! As she strut down the hallway, it looks like a snake slithering away. Very suiting considering what Jao Ouraka really is. So anywho… Chai is so sexy, starring as a bad guy.  I wished that Chai and Aun would switch roles, where Chai is Jao Putchakane and Chai is Subahn! That would be awesome.
Subahn wasn't wasting anytime! He tells Ouraka straight up that he means business. He cannot stop thinking about her and want to wine and dine her. Ouraka is disgusted and refers to Subahn's sick need for control and possession. Ouraka tells Subahn that she too wants to be with the person she loves even though he can't even remember her!
Of course Subahn is confused and doesn't know what the heck she's talking about as well as Putchakin who was listening in her their conversation.
Suddenly, the lights go out. A guy in a black suit shoots some people and then steals the expensive jewels… all, except Ouraka's emeralds!
And so Sith and Putchakin once again suspects Ouraka cause she disappeared and her jewels are unharmed.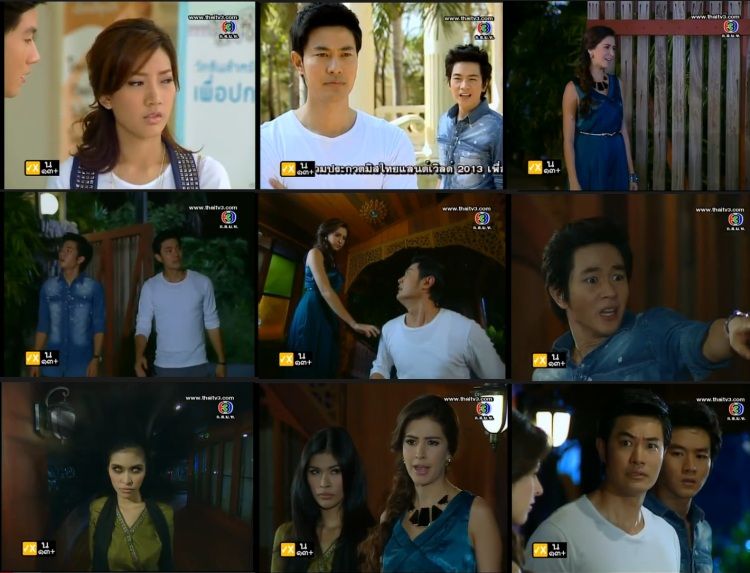 Nat, Subahn's cousin isn't too happy to hear that Subahn yet again is injured every time he's around Ouraka! Sith tells Nat that purpose what Subahn and Ouraka have is fate??? Yeah right! hahahha…
So after explaining the fate thing to Putchakin.. (I don't like calling him chai cause the actor playing subahn is named chai! it's confusing!) , putchakin seems a nit jealous, after all, he did witness subahn professing his love to ouraka.)
Putchakin summons sith to go over to Ouraka's house to do a little investigation. When they got there, Sith felt eerie because he could have sworn the house wasn't here the last time they went looking for it.
"if she can make a whole house disappear, I'll bet she can do that to jewels too!" putchakin comments.
They walk to the front of the gate.. and the gate opens for them even though they didn't even ring the bell yet.
"relax.. I saw you guys through the surveillance.. so I opened the gate.." Ouraka reassures them. She leads them inside.. but somehow, they lose her! she walked so fast as if she just disappeared.
Sith and putchakin splits up to go looking for ouraka in her big house. Putchakin walks into the house and sees a big statue of lord subahn the bird and a naka king in a battle.. immediately he feels all the pain that was inflicted on him when he was killed by lord subahn.
putchakin yelps in pain… but ouraka touches him and he comes back to reality.
"it's you? ouraka.."
"yes, it's me.. not the so called thief you think I am…"
meanwhile Sith walks around the strange place.. and then he runs into charayu, ouraka's servant .
she confronts him… "what's so strange?
"it's so weird here.. like not a human's home… "
"then is it a ghost's house???" charayu then scares Sith by turning into a long haired monster.
Ouraka stops charayu .. and then asked putchakin and sith to leave.
"there's no ghosts nor theives here, if you guys want to see them.. go elsewhere!"
sith and putchakin was confused as to how ouraka knew the reason they were here.
ouraka explains that, the reason why her jewels are unharmed is because they are very valuable and she uses bullet proof, shatter proof glass but we know that it's unharmed cause it belongs to Naka Queen!
wow, so it turns out subahn is behind that theft at the party. to make it look believable, he also gets shot, that way, no one would suspect that it is him who staged the entire thing.
his hired gun man told him that he wasn't able to take ourakaa's jewels cause the glass won't break no matter what he did. subahn tells his guys that it's okay cause once he make ouraka his wife, then what is hers will be his!
ouraka heard the whole conversation thru her snake that was spying on them.
"Never!!!!! Never!!!" Ouraka utters angrily.
Ewww… meanwhile, Pheobe and her mom are just being useless characters, talking about how ouraka is strange. Pheobe vows to her mother however that she will somehow get Putchakin!
Putchakin's mom is drawn and intrigued by Ouraka. She asked Putchakin to go invite Ouraka for dinner.
So Putchakin goes by himself to Ouraka's house because his friend Sith refuses cause he got scared ! What a sissy, what kinda cop is he? hahaha
Putchakin arrives.. Ouraka greets him at the gate.. he is annoyed of her and quickly tells her that his mom invited her to dinner.
"do you know that you're annoying??? like… you know exactly what I'n thinking??" Putchakin tells her annoyingly.
"I'm just blunt… isn't that true? human's heart changes each day… "
she approaches him… "I will wait for you.. you still want me to go to your house right?"
"in that case, I'm leaving.. "
"oh… wait.. you came all the here, don't you want to stay with me for a bit?" ouraka looks at him longingly.
meanwhile, while driving home with Nat, Sith sees Subahn's gps.. it's headibg straight to ouraka's place.. Sith is worried cause Putchakin is there right now.
Ouraka leads putchakin to her mysterious home..
"wait here please…" she tells him.
He waits and feels eerie, as if he lived here before.
Something leads him further into the home to ouraka's bedroom. there are green curtains blocking him from her. He peaks through the curtains… she is changing into her usual Naka Queen gown.
Putchakkin couldn't help but stare at that beauty, it's like….  so strange but so familiar.
Then she approaches him.. they are face to face..
"beautiful.. you're so beautiful.. I want it to  be mine…" he utters.
"I'm always yours…" she utters sadly as she holds onto his hands to her face. Awww.. sniff sniff
ouraka's loyal servants see that subahn is on his way here and didn't want their masters to be interrupted. So the male snake stops subahn's car by slithering under the engine causing it to stop. Just then, Nat and Sith arrives at where subahn is at. As subahn's bodyguard tried to shoot the snake, a grenade is thrown to them!!!
It explodes subahn's car.. they look over and see a guy in black clothes and realized that it is one of ouraka's people!
Meanwhile… lord Putchakane is under Ouraka's spell… It's like he is back to his normal self again.
They go to the bed, and was about to make sweet snake love. He was about to kiss her, but there is a knock at the door! Damn Sith, Nat, and subahn is here. Ughhh go away assholes!!!
Nat was very vocal accusing ouraka and wanting her house to be searched. Subahn sees Putchakin and was threatened to see him here.
"why are you guys here.. uninvited??" ouraka demanded.
"someone.. your guy threw a grenade at us.."
"why you telling me this? I'm not the police station!" ouraka snaps at them. "go ahead and search!" she tells them angrily.
Subahn finally ask putchakin what he was doing here.
"we're here to find the bad guy, don't worry about other things.." nat tells them.
Sith got a phone call that the bad guy been been captured.
Nat says to ouraka.. "wanna go to the jail to see if it's your guy??" Ughh.. ouraka should just bite her smart ass.
later that night, ouraka calls her snake back… so the guy that got captured turns into a snake and escapes.
Ouraka goes to the jail to see her so called guy, but of course he's gone.. and there are snake tracks. Nat however is bitchy and suspects ouraka of foul play.
so it turns out that the grenade belonged to a rich man that is enemies with subahn not ouraka's snaKE! subahn confronts the Sia at the hotel. They get into a fighting match where sia wasn't fit enough to beat subahn.
"remember.. don't make me be bad!" subahn warns the Sia.
"If I see you again.. you'll be sorry!" subahn threatens the sia..
Just then Ouraka appears and was clapping for subahn.
subahn was very happy to see her.
"I'm so happy to see you here.. "
"I didn't think I was coming, but something tells me to come.."
"it's fate maybe..?"
"our hearts control us.. wherever our hearts go, we go…"
"I'll be very happy if you came here for me.."
"yes, I came here for you…"
"you're not kidding me are you?"
"do I look like the type that kids?" ouraka tells him.
"let me frank.. I don't like you seeing Chai…"
"oh really?"
"I don't like you saying that…I don't get it.."
"this world isn't just black and white.. yes or no, I know you should be more open that this.. like a sportsmanship, you should know how to win without taking from others or threatening others.."
"are you insulting me??" subahn questions.
"you can't control the heart.. you can't force it and if you don't get what you want, you can't force it out of the heart."
"are you telling me you like putchakin????"
"what if I said I did???"
subahyn got pissed, so he grabs her and pulls her in ..
"no matter how much time passes.. lord subahn will always be subahn… "
"I love you… I never love you like this before… "
"love…. are you sure it's love??"
"yes I love you…"
"love.. then you should be able to do anything for  me?"
"yes, if you like…"
subahn goes for a kiss… was under a trance, and then SsSssssssss snake!!!!
His men came to help and shoots the snake!!! poor snake got hit by bullet.
Ouraka goes back to her snake realm and heals herself by pulling out the bullet.
Meanwhile.. Nat talks to her dad that ouraka is very strange..  she tells her that that whenever ouraka is there, bad things happened.
~~
Putchakin sits on his porch… he keeps thinking of that night with ouraka, the night he was about to make sweet snake love with her..
he is confused.."what the hell am I thinking about her for??? if she was a good lady, she wouldn't behave that way.. don't see her again.." he tells himself.
Poor ouraka is sadden to hear this.
End of Episode