Manee Sawud Epi. 4 Quick Review COMPLETED!
From youtube
Sheesh! Rita look so beautiful in this lakorn! Instead of a queen Naka, she might as well be a goddess! I hope she continues to do roles like these. I would love to see her in a historical lakorn where she's a queen of a kingdom! Well…. I take that back, I wanted Chai and Aun to change roles, but when I think about it, Aun has such a innocent face to play a bad ass, whereas Chai is versatile. He can do bad and he can do good! I just love him. lol.. Anywho…. On with the review…
Putchakin's mom encourages her son to go over to Ouraka again to invite her over for dinner. She is mesmerized by Ouraka and wants to get to know her better. Putchakin reluctantly goes to ouraka's house, but her servant tells him she isn't available and lied that she went to the temple.
Ouraka is in her snake realm recuperating from the gun shot she endured. Ouraka is going forward with her new plan.. she is enlisting the help of Nat by putting Nat under her spell.
In order to get to Nat, Ouraka pretended to be a poor beggar and sat in front of Nat's house. Nat's grandma saw ouraka and felt badly for her. the granny gave ouraka money to go buy food, in return ouraka gave the granny a piece of work with a naka carved into it. It was a perfect scenerio because nat owns an old antique shop.
And so the granny gave Nat the artwork to put it in her shop.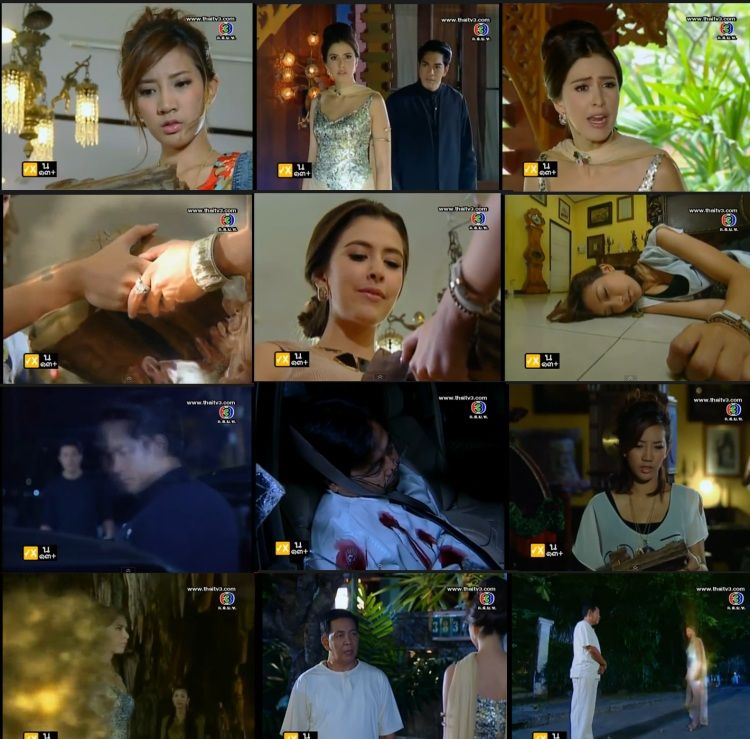 Uhmm I dunno who that guy is.. but I think he is the undertaker..  he warns Ouraka not to get nat involved  and calls her selfish! but poor Ouraka is willing to do anything to get lord Putchakane back.
and so she goes over to Nat's shop and pretends to be interested in the naka art.. she asked to see it. Nat hands it over.. and that's when Ouraka touches her hand and put her under her spell.
So amywho…  there was an accident on the road and some doctor is dead… Putchakin sees that undertaker guy by the coprse.. he was alarmed cause that was the same guy he sees with ouraka the night some guy got stabbed .
meanwhile… Nat's dad is a holy man… he was once threatened by Ouraka but after he and ouraka connected mentally and spiritually, he gave her his blessing to allow his daughter to be under the spell .. after all, his daughter will receive lots of good merits for reuniting lost loves!
Sith goes to ourakas's house again to investigate , but he was sent away by ouraka. on the way out, sith sees nat and is shocked to see her there! nat seems different.. she's into ouraka and is more accepting towards ouraka.. not the same nat like before.
nat attemots to go inside ouraka's home, but sith the sissy stops her.. and express to her that he doesn't want her to associate with ouraka! But nat vows that she will see ouraka no matter what, if not today!
so sith goes back to his office and ordered his colleague to dig for some information on ouraka.
meanwhile… subahn is going crazy.. he can't eat, he can't sleep. every breath he breathes is ouraka.. he wants to see her badly but tried to stop himself . he even put the politics on the side! this allowed his enemy, the Sia to get the upper hand.
Ouraka however continues her quest to get closed to putchakin, she bumps into putchakin's mother and sister..
and they have lunch and good conversations. Ouraka tells the mom that she and putchakin were closed.. and so his mom thought they met each other overseas or something.
putchakin's sister tells ouraka that they are having a charity ball and encourages ouraka to be a part of the showcase. so ouraka accepts it and even shows his sister a little trick using a crystal. she made it disappeared.
Na shows her brother the trick that ouraka showed her, but putchakin is unexpressed trying to deny himself of any feelings toward ouraka.
poor ouraka watches him from the shadows, hopeful that her lord putchakane's memory would be triggered by that crystal..
that song in the background when ouraka is sad makes me so sad! so tragic how she's always trying to reach out to her beloved but he doesn't remember her and thinks ill of her!!!
so putchakin is confused. the gardener told him that all those snake tracks around the house may be left by the naka queen and she comes in peace. and so putchakin starts connecting the dots. he thought however that it's too crazy to think that ouraka could be the naka queen???
sith continues to question nat why the change of heart…  he warns her that ouraka is scary and doesn't want her associating with them at all. sith then goes to nat's dad and ask why nat has a change of heart about oyraka so suddenly.
her dad tells him that perhaps nat got to really know ouraka and likes her after all?? perhaps to like someone you must connect with them mentally and spiritually??
the dad encourages sith to look within himself .
meanwhile, putchakin runs into ouraka again. he's pretty annoyed and tells ouraka how it's so weird lately that they been running int each other.
oyraka however expresses how every time she sees him, it's her happiest moments.
of course he's more annoyed and thinks she's a flirt to every men.
so ouraka mentions how she showed Na, his sister her magic trick. she encourages him to look at the crystal … to evoke some memories.. there was a memory that was evoked. it was the time when his mom gave him a ring from his late father but he lost it.. this was a sad memory he tried to forget.. . ouraka then tried again to get him to really see the crystal. she puts hm under a painful trance.. by telling him how this crystal was a result of immense pain, the blood of a naka. and so putchakin has a painful episode again.. the moment when lord subahn the bird teared his flesh apart… he could feel the entire thing , like a vivid paralyzing dream!
when he jolts awake… he utters to himself that he feels like he was the naka that he keeps dreaming about!
subahn is going berserk and crazy.. he could hardly stand the coldness that ouraka is showing him, so he decided to confront ouraka. he tells her that because of her, he cannot think, eat, or relax. every ounce of him keeps thinking about her..
subahn expresses his love to her , it's like a dyer need for her. but ouraka rips him apart when she tells him that she never loves him and can never love him!!!
on the drive home, subahn pulls over and is angered. never in his life did he ever have to sought out to a woman cause women would flock to him! and so he vows that he will have ouraka no matter what! he then ordered his man to spy on ouraka and keep track of her.
one night, putchakin was so anxious.. he goes looking for that crystal that ouraka gave his sister to give him,.  but it was gone!
meanwhile.. chayu, ouraka's loyal servant suggest to her master that they should make putchakin anxious by playing hard to get.. by disappearing from him for awhile. and so putchakin goes looking for ouraka's house but he keeps driving in circles. it was painful for ouraka to watch her love yell out for her like that but not be able to reach out to him.
so the next night, putchakin goes looking for her again, but this time, ouraka couldn't take it anynore.. so she appeared to putchakin again.
he finds her and questions why her home is invisible. ouraka lied that he was lost! her home is very hidden.
putchakin is increasingly annoyed by ouraka.  she tells him that she's some kind of magician.. that angered him more!
"tell me.. who the hell are you?? and what kind of tricks are you doing on me?? tell me??" putchakin shakes her and demanded answers, but ouraka was focused on subahns man who was spying on them.
putchakin is pissed and demands for the crystal back. she gives it to him and tells him that it's his anyway,,, something that came out of pain.
putchakin is livid by now and confronts ouraka and tells her to stop talking nonsense and vague. he hands her back the crystal angry but she begs him to keep it for it will protect him. she walks away from him.. he was tempted to follow but forces himself not to. Instead, he storms off mad.
ouraka decided to turn into her snake self and follow subahn's spy to scare him. He shoots her but the bullets didn't harm her. Instead she constrict him and is about to bite ., but the ninja guy comes to the rescue and shoots her with a special bullet!
poor ouraka is hot once again. she lets go of the guy and runs away.
the ninja guy tells the other guy that the snake isn't just a snake but a zombie snake,,, and expresses how it's so weird that every time there is a snake, ouraka is there. he also warns that ouraka will be subahn's downfall!
meanwhile… ouraka is injured once again. she reaches her home and is in a lot of pain!
End of Episode