Koo Khum Epi. 9 Caps COMPLETED!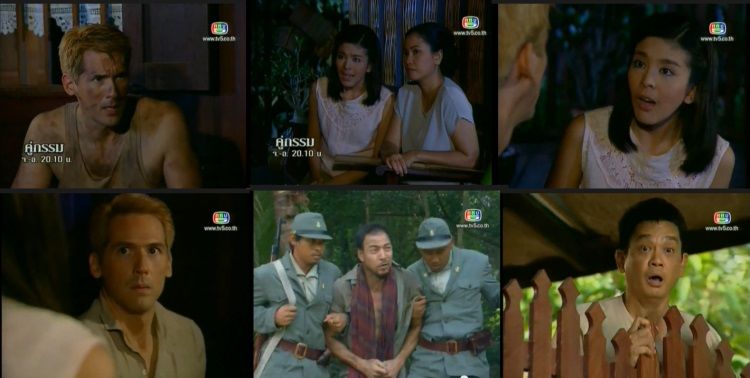 From youtube
Hmm… sometimes I get annoyed of Ungsumalin's stubbornness and pride, but then again I can also understand her. It's one of those things where things just needs a balance. She can be prideful and cordial at the same time. But her mighty pride over Kobori kinda stinks cause he's a good guy dammit!!!! On another note… is that white actor awesome or what?? His Thai is so clear and fluent! Wow… Oh wait, unless he's Thai but just dyed the hair blond??? I can't tell! By the way, I will do back to back episodes of Koo Khum before I start on this week's Manee Sawud.
On with the caps…
Ung finds out that not only is the white guy a POW, he's also a soldier. And that's huge!!!! She decided to let him stay and hide at her place in the storage room. Meanwhile… the Japanese army is frantic looking and searching for the POW.
They seize that one drunkard cause he possessed war boots and uniform! They think that he is hiding a POW but what happened was he bought those items from a POW. So they take him in for interrogation.
His friend Bua rushes to Ung's house and tells Ung that the Japanese took his friend. Then minutes later, Kobori and two of his men march ro Ung's house! Ung quickly hides the POW in her room in the closet. she tells her Mom and grandma who is in shock cause she just found out to act normal and casual. But Kobori isn't stupid!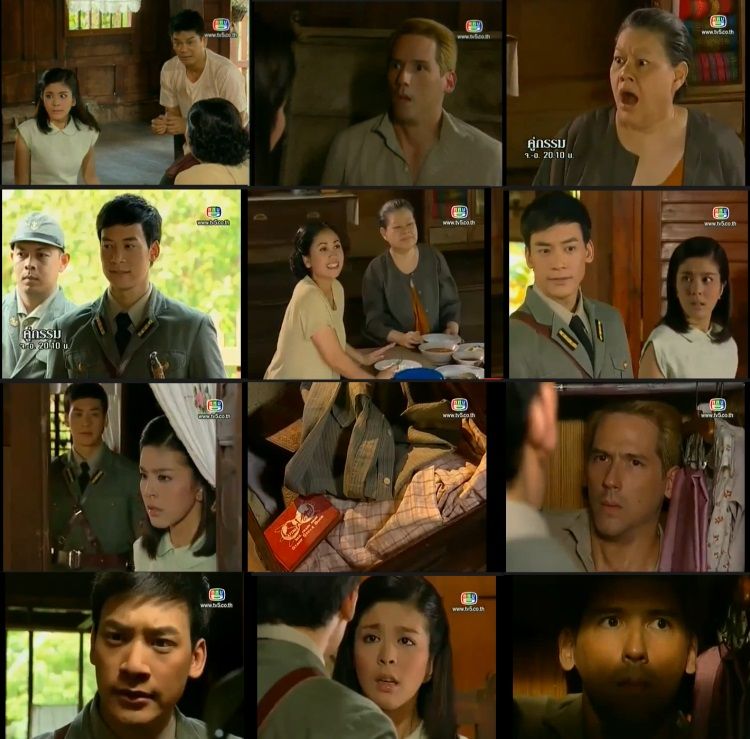 Kobori noticed that everyone was acting a little odd, but since they were in friends and he has trust in them, he didn't question them but as a soldier , it was his duty to search the house per orders.
and so kobori and his men search. Ung kept her cool and calm.. she shows him around and then.. he had to search her bedroom. Kobori was excited to be in the bedroom of the girl he loves.. he looked at her flowers and makes comments about them.
"you're not here for that aren't you?" Ung tells him sternly.
Just then Kobori sees a chest. Ung opens.. "these are my father's.."
they look like she dug thru them for some clothes. Kobori grew suspicious… but was about to leave the room but then he sees a fabric sticking out of the closet. He opens the closet and search thru.. .there, he stare into the eyes of the POW he was looking for.
He then shuts the closet and says something in English that I couldn't understand . lol
And then he tells Ung that the POw is a high rank soldier and it's a shame that he's hiding behind a lady's dress!
"what do you think I am???" he questions her. And then.. turns to the closet.. "there is no need to kill someone who is already dead!"
Kobori storms out.
Ung knew for sure that Kobori saw the POW. she quickly scrambled to find another place for him.. that's when Ung offered for Bua to help the freedom Thailand.. by letting POW hide in his hut. So Bua accepted the challenge to help freedom Thailand.
Ung goes to talk to Kobori, when she got to the base, she was furious to see that Pone is being harshly interrogated. She orders them to stop.  Kobori confronts her..
"how do you know he doesn't know anything? it looks like you know a lot…  then I should ask you?" Kobori confronts her.
"I have two choice.. either be a bad soldier and be good in your eyes.. or be a good soldier, but bad in your eyes?? I do everything good because of you.. I will give him his life for you, but it will mean my life for his life.. I'm now a traitor, and will get shot…  but do you care if I live or die? In your eyes? am I valuable?? My value is less than his even though he killed people equal to me?? "
Ung was left speechless..
Meanwhile.. The thai army is celebrating cause they are finally getting a message to the USa that they are being occupied by Japanese.
Ung tells her mom that if army finds out they are helping a POW, they will be in deep shit, but it will be worse for Kobori cause he will be named a traitor.
Ung goes to check on the POW. The POW says he knows for sure that Kobori saw him but why he didn't seize him?? could it be cause he loves you??? Ung gasps and quickly tells POw that nonsense.. she's thai, she doesn't go with non Thais!!
"I'm sorry, I thought you both were asian so I didn't think it mattered!" the POW tells her.
the POW ends up lecturing Ung and tells her that she gotta put her guards down and stop being so stubborn and prideful. lol Meanwhile.. Kobori was about to write his petition letter to be sent to the front lines. He just wanted to make Ung happy and leave, but doctor stops him and tells him to stay cause he loves the Thai people and he loves this place.
So later that night while bathing,,, Ung lied to herself.. "I love Nott only!!!!" she utters but her heart failed her cause she kept thinking of Kobori.
So later.. it was time to move the POW to Bua's house. Bua got the house ready and everything.. and then Kobori shows up.
Kobori happens to linger around and even sat down.
Just then, POw and Ung sneak toward the hut but Ung sees Kobori's boots! She let the POW hide and approaches the hut alone.
"what are you doing here?" she questions..
"I'm here to see Bua. WHAT ABOUT YOU?" he asked.
He looks around.. nothing.
"I didn't think I'd see you here.." he says.
"I wasn't surprise to see you.." she says coldly.
"truth is.. I came to tell Bua to go pick up his friend tomorrow… and then I decided to linger around to see if I should stay here longer or go to the front lines!!!"
then Ung played it off and tells Bua a message from her Mom. she walks off, he grabs her.
"I'm coming too… "
hahaha.. then the following parts are so funny… bua takes the white guy.. "noo no noo okay okay yes no okay thank you.." bua says. lol
then when he found out that the white guy can speak thai, he tried to kick the white guys ass.
Kobori follows Umg to question her more.
End of Episode